Welcome in the Saving Name of Our Lord Jesus Christ, to whom be all honour, praise and glory,
Thank you for visiting our Parish website.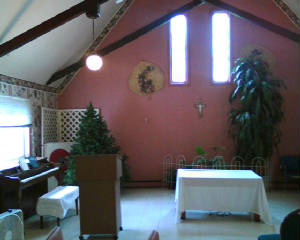 Palm Sunday 2013 As we begin Holy Week...
The Sunday next before Easter.
The Collect.

LMIGHTY
and everlasting God, who, of thy tender love towards mankind, hast sent thy Son, our Savior Jesus Christ, to take upon him our flesh, and to suffer death upon the cross, that all mankind should follow the example of his great humility; Mercifully grant, that we may both follow the example of his patience, and also be made partakers of his resurrection; through the same Jesus Christ our Lord.
Amen.
The Collect from the First Day of Lent is to be read every day in Lent after the Collect appointed for the Day.
The Epistle. Phil. 2. 5.

ET
this mind be in you, which was also in Christ Jesus: Who, being in the form of God, thought it not robbery to be equal with God: But made himself of no reputation, and took upon him the form of a servant, and was made in the likeness of men: And being found in fashion as a man, he humbled himself, and became obedient unto death, even the death of the cross. Wherefore God also hath highly exalted him, and given him a name which is above every name: That at the name of Jesus every knee should bow, of things in heaven, and things in earth, and things under the earth; And that every tongue should confess that Jesus Christ is Lord, to the glory of God the Father.
The Gospel. St. Matth. 27. 1.

HEN
the morning was come, all the chief priests and elders of the people took counsel against Jesus to put him to death: And when they had bound him, they led him away, and delivered him to Pontius Pilate the governor. Then Judas, which had betrayed him, when he saw that he was condemned, repented himself, and brought again the thirty pieces of silver to the chief priests and elders, Saying, I have sinned in that I have betrayed the innocent blood. And they said, What is that to us? see thou to that. And he cast down the pieces of silver in the temple, and departed, and went and hanged himself. And the chief priests took the silver pieces, and said, It is not lawful for to put them into the treasury, because it is the price of blood. And they took counsel, and bought with them the potter's field, to bury strangers in. Wherefore that field was called, The field of blood, unto this day. Then was fulfilled that which was spoken by Jeremy the prophet, saying, And they took the thirty pieces of silver, the price of him that was valued, whom they of the children of Israel did value; And gave them for the potter's field, as the Lord appointed me. And Jesus stood before the governor: and the governor asked him, saying, Art thou the King of the Jews? And Jesus said unto him, Thou sayest. And when he was accused of the chief priests and elders, he answered nothing. Then said Pilate unto him, Hearest thou not how many things they witness against thee? And he answered him to never a word; insomuch that the governor marvelled greatly. Now at that feast the governor was wont to release unto the people a prisoner, whom they would. And they had then a notable prisoner, called Barabbas. Therefore when they were gathered together, Pilate said unto them, Whom will ye that I release unto you? Barabbas, or Jesus which is called Christ? For he knew that for envy they had delivered him. When he was set down on the judgment seat, his wife sent unto him, saying, Have thou nothing to do with that just man: for I have suffered many things this day in a dream because of him. But the chief priests and elders persuaded the multitude that they should ask Barabbas, and destroy Jesus. The governor answered and said unto them, Whether of the twain will ye that I release unto you? They said, Barabbas. Pilate saith unto them, What shall I do then with Jesus which is called Christ? They all say unto him, Let him be crucified. And the governor said, Why, what evil hath he done? But they cried out the more, saying, Let him be crucified. When Pilate saw that he could prevail nothing, but that rather a tumult was made, he took water, and washed his hands before the multitude, saying, I am innocent of the blood of this just person: see ye to it. Then answered all the people, and said, His blood be on us, and on our children. Then released he Barabbas unto them: and when he had scourged Jesus, he delivered him to be crucified. Then the soldiers of the governor took Jesus into the common hall, and gathered unto him the whole band of soldiers. And they stripped him, and put on him a scarlet robe. And when they had platted a crown of thorns, they put it upon his head, and a reed in his right hand: and they bowed the knee before him, and mocked him, saying, Hail, King of the Jews! And they spit upon him, and took the reed, and smote him on the head. And after that they had mocked him, they took the robe off from him, and put his own raiment on him, and led him away to crucify him. And as they came out, they found a man of Cyrene, Simon by name: him they compelled to bear his cross. And when they were come unto a place called Golgotha, that is to say, a place of a skull, They gave him vinegar to drink mingled with gall: and when he had tasted thereof, he would not drink. And they crucified him, and parted his garments, casting lots: that it might be fulfilled which was spoken by the prophet, They parted my garments among them, and upon my vesture did they cast lots. And sitting down they watched him there; And set up over his head his accusation written, THIS IS JESUS THE KING OF THE JEWS. Then were there two thieves crucified with him, one on the right hand, and another on the left. And they that passed by reviled him, wagging their heads, And saying, Thou that destroyest the temple, and buildest it in three days, save thyself. If thou be the Son of God, come down from the cross. Likewise also the chief priests mocking him, with the scribes and elders, said, He saved others; himself he cannot save. If he be the King of Israel, let him now come down from the cross, and we will believe him. He trusted in God; let him deliver him now, if he will have him: for he said, I am the Son of God. The thieves also, which were crucified with him, cast the same in his teeth. Now from the sixth hour there was darkness over all the land unto the ninth hour. And about the ninth hour Jesus cried with a loud voice, saying,
Eli, Eli, lama sabachthani?
that is to say, My God, my God, why hast thou forsaken me? Some of them that stood there, when they heard that, said, This man calleth for Elias. And straightway one of them ran, and took a sponge, and filled it with vinegar, and put it on a reed, and gave him to drink. The rest said, Let be, let us see whether Elias will come to save him. Jesus, when he had cried again with a loud voice, yielded up the ghost. And, behold, the veil of the temple was rent in twain from the top to the bottom; and the earth did quake, and the rocks rent; And the graves were opened; and many bodies of the saints which slept arose, And came out of the graves after his resurrection, and went into the holy city, and appeared unto many. Now when the centurion, and they that were with him, watching Jesus, saw the earthquake, and those things that were done, they feared greatly, saying, Truly this was the Son of God.
The Third Sunday in Advent. Dec 16 2012
The Collect.

LORD
Jesu Christ, who at thy first coming didst send thy messenger to prepare thy way before thee; Grant that the ministers and stewards of thy mysteries may likewise so prepare and make ready thy way, by turning the hearts of the disobedient to the wisdom of the just, that at thy second coming to judge the world we may be found an acceptable people in thy sight, who livest and reignest with the Father and the Holy Spirit ever, one God, world without end.
Amen.
The Collect from the First Sunday in Advent is to be repeated every day, with the other Collects in Advent, until Christmas-Eve.
The Epistle. 1 Cor. 4. 1.

ET
a man so account of us, as of the ministers of Christ, and stewards of the mysteries of God. Moreover it is required in stewards, that a man be found faithful. But with me it is a very small thing that I should be judged of you, or of man's judgment: yea, I judge not mine own self. For I know nothing by myself; yet am I not hereby justified: but he that judgeth me is the Lord. Therefore judge nothing before the time, until the Lord come, who both will bring to light the hidden things of darkness, and will make manifest the counsels of the hearts: and then shall every man have praise of God.
The Gospel. St. Matth. 11. 2.

OW
when John had heard in the prison the works of Christ, he sent two of his disciples, And said unto him, Art thou he that should come, or do we look for another? Jesus answered and said unto them, Go and shew John again those things which ye do hear and see: The blind receive their sight, and the lame walk, the lepers are cleansed, and the deaf hear, the dead are raised up, and the poor have the gospel preached to them. And blessed is he, whosoever shall not be offended in me. And as they departed, Jesus began to say unto the multitudes concerning John, What went ye out into the wilderness to see? A reed shaken with the wind? But what went ye out for to see? A man clothed in soft raiment? behold, they that wear soft clothing are in kings' houses. But what went ye out for to see? A prophet? yea, I say unto you, and more than a prophet. For this is he, of whom it is written, Behold, I send my messenger before thy face, which shall prepare thy way before thee.
At the heart of Prince of Peace Ministries is the desire to Love and Serve Our Lord and Saviour Jesus Christ in all that we say and do and think. In this, we endeavour to fulfill the Master's Great Commission; to take the Gospel of Salvation into and to all the world. We attempt this through Our Divine Liturgy, the Sacraments, the Preaching of the Gospel, and now also since 2006; by the Preaching of the Gospel Online in this format, whereby we now reach persons in all continents of the earth with the Saving News of Jesus Christ, the Second Person of the Blessed Trinity, who died and shed His Blood to save our souls from sin, and rose from the dead on the third day, and ascended into heaven, from whence He shall come again i Glory to judge the living and the Dead, and His Kingdom shall have no end.
Pastoral Letter:
We are faced with the most grievous assaults on freedom of religion and morality and on the structure of the identity of Church ever faced in these United States. We must state and reiterate that no matter what goes on legally, we will stand WITH THE LORD. We oppose the so-called HHS MANDATE being immorally pursued by the current administration, which seeks to force Churches into believing and practicing not what they deem as tenets of faith, but that which a secular unbelieving group of political elites (unrepresentative of these United States) would foist upon them. Further, these religious groups would be forced to provide Murder services (abortion services) in their healthcare policies for their employees, and contraception services, and we oppose both. We must vocalize for the Lord Our God, the Blessed Trinity, now more than ever, and we will not be silenced!
We preserve and promote the traditional liturgies of the Church.
Following the lead of our first patriarch, Archbishop Jozef Zielonka, we have returned to the use of the traditional Epistle and Gospel readings for all Masses, using the same Missal as was used in the Western Church until 1970. This is effective officially (for Christ Catholic Church parishes) on the First Sunday of Advent, December 2, 2012.
BRIEF HISTORY BELOW, RE-UPDATED DEC. 2012

We praise the Lord Jesus for you coming to this site. This is the Reverend David Ellis. I have been in the so-called "Independent Movement" since early 1988. I was ordained to the diaconate in the fall of that year. I was ordained to the priesthood on Nov. 12, 1989 at Kansas City Missouri by the Late Bishop Patrick M. Cronin, of Schnectady New York, at a mass in which Raymond Loosmore II was also ordained to the priesthood. In attendance, among others, was Bishop David L. Jones of the United American Orthodox Catholic Church. I founded the Holy Orthodox Church of the Theotokos in Branson Missouri in 1989, as the first parish for Christ Catholic Church in Branson Missouri, in the former Presbyterian Church Building (Tri-Lakes Center). And then I later established mission works in and around Shelbyville, Mt. Zion, and Lakewood Illinois, as St. Francis Parich and Oratory. I began Prince of Peace Christ Catholic Church in 1994, under the ecclesiastical approbation of (then) Archbishop Donald W. Mullan of Christ Catholic Church International. At the time of the split between the Canadian Church and the Pruter American Church, I remained within the American Church under Bishop Karl Pruter. Bishop Karl passed away in 2007. Before Bishop Karl's death, he granted consecration sub-conditione to Bishop O'Block of the Southern Episcopal Church, with right of succession to the See of the Presiding Bishop of Christ Catholic Church. The S.E.C.U.S.A. merged that portion of Christ Catholic Church into a "Diocese" of the SEC. I have not ever been connected with that group,(The Southern Episcopal Church) or approached by them. I have continued on with that group of priests and ministries which have remained within the original body of Christ Catholic Church. For mattters of clarification, we have begun using the style "The Holy Synod of Christ Catholic Church." which has always been the official designation of the body of all ordained clergy in major orders within Christ Catholic Church. The official "denominational" name for the entire body of the Church remains: "Christ Catholic Church of the Americas and Europe", and within that body, we are a part of Christ Catholic Church, Archdiocese of the Eastern United States. This group is truly miniscule, but is Blessed by Our Lord Jesus through the Unction of the Holy Spirit as we continue our ministry for and with the Lord. We continue to Proclaim and Preserve the Historic Catholic Faith and Tradition.
Home page at:
Liturgy page at:
Second Coming of Christ at:
Jesus is God at:
Christmas and the Glastonbury Rood at:
Orthodox Prayers and the Nicean Creed at:
Church Calendar at:
Church Lectionary at:
Baptism of the Holy Spirit at:
Church History of this ministry at:
Our google site page (new and just starting)
Solemn Excommunication article at:
Eat His Body and Drink His Blood article at:
See our extensive Blog site of feast days and sermons at:
http://princeofpeacemin.lifewithchrist.org/
Main Blog site at:
http;//princeofpeacemin.blogspot.com
http://princeofpeaceccc.angelfire.com
http://anglican-rite.angelfire.com
http://princeofpeacemin.tripod.com
http://princeofpeacemin.angelfire.com
Also we have added a new page at:
http://princeofpeaceanglicanriteministries.yolasite.com
Be sure to visit http://apostolic-ministries.tripod.com for the largest page of ministry info and teaching of the Holy Faith
AND Announcing the newest alternate homepage of this ministry at
New web attic of miscellany of Ministry info also at:'
https://sites.google.com/site/princeofpeacebiblestudy
https://sites.google.com/site/princeofpeaceanglicanrite
See also our "Angelfire" pages at:
http://anglican-rite.angelfire.com
Our other angelfire pages of this ministry are at:
http://princeofpeacemin.angelfire.com
http://princeofpeaceccc.angelfire.com
http://revdavidellis.angelfire.com
http://apostolic-ministries.angelfire.com
http://anglican-rite.angelfire.com/pastor
The Late Bishop Patrick M. Cronin Oct. 1989 Excelsior Springs Missouri
Please Note: for day to day u06/04/1988
Patrick Michael Cronin
(b. in 19xx; d. in 1991).
......e-mail address: [Not Applicable - deceased]
Ordained a priest on xx/xx/19xx at xxxxx by xxxxx, a bishop of xxxxx.
Consecrated a bishop on 06/04/1988 at Altoona, Pennsylvania, by Luís Fernando Castillo-Méndez, a bishop of the
Igreja Católica Apostólica Brasileira
, assisted by Richard James Ingram, a bishop of the
Western Orthodox Church in America
, and by Walbert Rommel Coelho, a bishop of the ICAB
Prince of Peace Ministries CCC
Rev. David Ellis Pastor
JESUS IS LORD
This page is supplemental to main site home at:'
http://apostolic-ministries.tripod.com
We are dedicated to preaching the Saving Word of Jesus…the Word that sets men and women free from their sins, as they fall under the mighty convicting power of the Holy Spirit, and lives are forever changed. We live in a desperate age, when all game playing, both in our lives, and in our chureches, must be forever at an end. The Living Risen Jesus wants to change your life and then set you on a path of holiness toward the goal of total spiritual union with Him, and His Father, through the Holy Spirit. This is our goal.
We also are dedicated to non-compromise in essentials of the Faith. Christ gave us the Sacrifice of Calvary, to participate in, by faith, as we share in the Eucharistic Sacrifice (which is identical with the sacrifice at Calvary) and as we partake of the Body and Blood, flesh, soul, and divinity of our Lord Jesus in the Blessed Sacrament, which is worthy of all adoration. Essential to the perpetuation of this Sacrifice of the Mass which we know as the Divine Liturgy; is the perpetuation of the Apostolic Succession of Validly consecrated Bishops as sucessors of the Apostles and validly ordained priests, without which no valid Eucharist could occur.
We are:
HISTORIC…the faith of the Holy Churches of Rome, Constantinople, Alexandria, Antioch , and Jerusalem.
LITURGICAL…the faith and practice of historic liturgy featuring the Holy Eucharistic Sacrifice of Our Lord and Saviour Jesus Christ, in the Divine Liturgy.
CHARISMATIC…We believe in the true Baptism of the Holy Spirit and the Gifts of the Spirit, in operation in the Church today.
Prayer on Sighting a Church or Cross
We adore Thee, Our Most Holy Lord, Jesus Christ, in all Thy churches which are in the world, and we bless Thee, because by Thy Holy Cross, Thou hast redeemed the world, with Mary.
---
Prayer on Entering a Church (where the Most Blessed Sacrament is reserved)
O Sacred Banquet in which Christ is recieved, the memory of His Passion is renewed, our souls are filled with grace and a pledge of future glory is given to us!
V.: Thou has given them Bread from heaven!
R.: The Bread that has all sweetness within!
O God who in this wonderful Sacrament has left us a memorial of Thy Passion, grant we beseech Thee, that we may so venerate the Sacred Mysteries of Thy Body and Blood, as to come to experience the Fruit of Thy redemption, who livest and reignest forever and ever. Amen.
Jesus is Lord over all
St. Joseph of Arimathea (below)
ST. WILLIBRORD, (below) Patron Saint of the Old Catholic Movement
LINKS TO INDEPENDENT JURISDICTIONS:OLD CATHOLIC<ORTHODOX< AND ANGLICAN
Alexandrian Gnostic Church - +Thomas Langley, Dcn. Emelyn Miriam Tapaoan, Phillip Begosian
American Anglican Church/Anglican Providence of the Good Shepherd - +John A. Herzog.
American Apostolic Catholic Church - +Vince Lavieri.
The American Apostolic Church- +Bryan Marabanian; +Steven Delaney; +S. Joseph Collova; +Lainie Petersen; +William Smith, OSB; Harry C. Vedder+; Michael Frankwick, OSB+
American Catholic Church of New England - +Michael Scalzi, +Rosemary Ananis.
American Catholic Church in Nevada -
American Catholic Church in the United States - +William Johnson, D.D., Clergy – Art Spring+, David Murray+, Vince Robinson+, Rob Deifel+, Andrew J. Gourdeau+, Jose Gonzalez+, Brent Robeson+, Anthony C. Leonard, Jr.+, Christopher Bisett, OFM+, James Calderone+, Robert O'Connell+, Jack Miller+, Peter Miller+, Keith McIntosh+, Timothy Janning+, Charles Cooper+, Michael Zocholl, OFM+, Katherine MacPherson+, Cyril Nnadi+, John Tanveer+, Joe Luciano Vera Chamy+, Jayme Mathias+, Fausto Kaverenge+, Frank O'Connell, Damien A. Truslow-Trudeau, Elizabeth Miller, Patrick F. Lando, Don Daugherty, Sister Roza Razia, Brother Anthony Hamilton, Rev Sister Sharon Lee, Rev Bro Shawn Fulton,Rev Bro Jeffery B. Wolfe, Rev Bro Anthony Moran,
American National Catholic Church- +George Lucey, FCM
American Old Catholic Church - +Leonard T. Polomski Sr, +Frank McCloskey, +Norman Lapointe.
American Orthodox Church - Joseph Thaddeus.
American Synod of the Holy Orthodox Church - +Colin J. Guthrie.
The American World Patriarchates Ecumenical Orthodox Catholic Church - +E. J. Ryzy.
Anglican Catholic Church - +Mark Haverland.
Anglican Catholic Church of Canada - +Peter Wilkinson.
Anglican Catholic Church in Australia - +John Hepworth.
Anglican Church in America - +Louis W. Falk.
Anglican Church in North America - +Robert Duncan.
Anglican Church of Virginia - +Larry W. Johnson.
Anglican Diocese of the Great Lakes - +David T. Hustwick.
Anglican Episcopal Church - +George Conner.
Anglican Episcopal Church of Chile - +Patricio Viveros,+Jorge Rodriguez Escobar,+Octavio Castrillon,+Gerald Dante Mino,+Bernardo Moutou.
Anglican Mission in the Americas - +Emmanuel Kolini, +Charles H. Murphy
Anglican Orthodox Church - +Jerry Ogles.
Anglican Province of America - +Walter Grundorf.
Anglican Province of Christ the King - +James E. Provence, +Robert Sherwood Morse.
Anglican Rite Old Catholic Church - +Louis N. Bernhardt.
Anglo-Lutheran Catholic Church- +Irl A. Gladfelter, +Binh Tan Phan Nguyen, +Raymond Walter Copp, +Chaplen Luyimba Kweri, +Robert Edmondson, +Jesse L. Boyd III, + Edward J. Steele. – A Lutheran Church in the Evangelical Catholic Tradition with Apostolic Succession, which also has been strongly influenced by Anglicanism and by the Roman Catholic Church. It is a member of the Augustana Evangelical Catholic Communion.
Ante-Nicene Christian Fellowships, The Communion of - +Wm.Eric Thomas
The Apostolic Johannite Church - +S. McCann, +W. Behun, +J. Garcia, J. Stratford+, S. Rassbach+, R. Smith+, T. Mansfield+, S. Berry+, J. Perez+, A. Silvia+, R. Ortega+, L. Hoddinott+, Dcn. J. Carnes, Dcn. D. Donato, Dcn. R. Willoughby, Dcn. J. Weaver, Subd. J. Eimer, J. McCauslin, C. Aitkins
Apostolic Orthodox Church - +Vitali, +Sergei, +Vladmir, Gleb Yakunin+, Vitalij Rysev+, Alexander Dudkin+
Belarus Orthodox Church - +Valerian Mingolla Montrezza.
Catholic Apostolic Church of Antioch - +Mark Elliott Newman, Presiding Bishop, +Jack Isbell, +Diana Phipps and +Linda Rounds-Nichols.
Catholic Apostolic Church of Jerusalem H.S.B. Mar William I, Patriarch, +Isaac L. Kramer
Catholic Church in America - +Raymond F. Kelly, Ken Rosato+, Peg Ioannone-Nethery+, Orlando Molina+, Paulino Ruiz+, Michael Otero-Otero+, Ferdinand Thomas+, Ramon Gonzalez+, Rick Linton, sem.
Catholic Church, Inc. - +Joseph Daniel Finnegan.
The Celtic Anabaptist Communion - +Michael Wrenn.
The Celtic Communion of Christ- Bishop Primus Joe Quinn, +Tom McKenna, +Joe Dugan.
Christ Catholic Church (autocephalous since 1937) – David Ellis+, Robert Brouillette+
Christ's Church Fellowship (Since 1988, with clergy and ministries in twelve nations) – The Rt. Rev. David C. Holdridge, Presiding Bishop
Diocese of California American Catholic Church - +Thomas E. Abel, +Lou Bordisso, +Charles Grande, +Joseph F. Kenney, Retired, Martin De Porres Griffin+, Kevin Yell+, Mathew Jordan+, Mark Earl+, Dermot Rodgers+, Dcn. Ric Castanon.
Diocese of Saint Benedict – +E. Jansen
Ecclesia Gnostica (Church of Gnosis) - +Stephan Hoeller, Stephen Marshall+, Jan Sæther+, Charles Wells+, Sam Osbourne+, Troy Pierce+, John Goelz+, Robert Peterson+, Lance Owens+, Scott Soller+, Laurel Trump+, Donna Owen+, Ed Smith+, James Sprinkle+, et al.
Ecumenical Catholic Church – +M. Shirilua, +R. Hall, +B. LaBlanc
Ecumenical Catholic Church USA - +David Kocka, +Roland D. Jacques, +Carl T. Swaringim, Harold Bloss+, Robert A. Catlett, Jr.+, Thomas Whitehead+, Thomas Coover+, Richard Conrad+, Deacon Mike Kissel, Deacon Jeremiah Donohue.
Ecumenical Catholic Communion- +Peter E. Hickman, A. Leyva+, S. Jenkins+, D. Kenney+, F. Morales-Perez+, J. Lehman+, S. Rosczewski+, Z. Jakstas+, K. McCarthy+, N. Reidy+, M. Jaufman+, B. Blattner+, F. Krebs+, D. Kropf+, D. Donato+, M. Ramerman+, G. Piazza+.
l'Eglise Gnostique (Apostolique) - +G. Tappa, +J. Gautier, +C. Fella, +P. Garver CSM/OCP, C.+ Search CSM/OCP, G.+ Search CSM/OCP, M.+ Fosse.
Evangelical Anglican Church in America - +C. Bettendorf, + C. Velenzuela, +R. Smith. – An independent jurisdiction of the Anglican tradition preaching the affirming and inclusive Gospel of Jesus Christ.
Evangelical Episcopal Church (was also known as the King's Family of Churches before 2009) +Tomas Kennedy MPhil, Rev. Canon C Kumar, Rev. Canon S Simon, Rev. M Adams+, Rev. J Joyce+, Rev. N Williams+. A Church rooted in the Celtic Church and in the Anglican Tradition with Apostolic Succession. Cathedral Church in Benissa, Spain. Strongly influenced by the Convergence movement and part of the Christian Communion International (CCI). Congregations in Spain, Africa and India.
Evangelical Marian Catholic Church - +Anthony James M Burns of the Child Jesus, F.O.S.N., F.B.S.N., D.D. – The EvMCC is a member of the Augustana Evangelical Catholic Communion and has accepted the Unaltered Augsburg Confession. We are a mixture of Eastern Orthodox, Roman Catholics and Lutherans who accept God's calling in our daily lives.
Exorcist Order of Saint Michael - +Michael Kline. Affiliated with the American World Patriarchates – Belarus National Orthodox Church, His Beatitude Patriarch Yuri I
Free Church of Antioch - +Michelina Foster
Free Episcopal Church, The - +S. L. Albrecht
Heartland Old Catholic Church (Member CNAOCB) – +James Judd, +Charles Braun
Holy Light Temple: One-Holy-Catholic-Apostolic-Ecclesia (Synod Member SIAC) – †Joe Payyapilly
Holy Name Of Jesus Anglo Catholic Communion - +John Francis Sahuque; +W. Edward Crabtree; +Charles Pritchet; +John Wilton Stansell Jr; +Daniel Stansell; +Kent Wheeler; +Ann Crabtree; Mary Goggi+; Claire Sahuque+; Deaconess Lawanda Wheeler
Independent Catholic Christian Church - Website - Doctrinal Statements - +Timothy Michael Cravens
Independent Catholic Church of the West +Terry Boyer
Independent Catholic Church, Diocese of Summerville, South Carolina +Richard A. Kalbfleisch, OCF; +Gary Dilley; Robert O'Connell+, OCF; Carl Lukkes, OCF
Independent Evangelical Catholic Church in America - +David J. Doyle, +James Alan Wilkowski
Iglesia Episcopal Anglicana de Chile +Patricio Viveros, +Jorge Rodriguez Escobar, +Octavio Castrillon, +Gerald Dante Mino, +Bernardo Moutou
Latin-American Anglican Church - The Most Reverend + Leonardo Marin-Saavedra – Primate Archbishop.
Latin Episcopal Church of Brazil - + Lucas Macieira da Silva.
Mexican National Catholic Church - +Eduardo Rodriguez, +John Parnell, +Juan Garcia Tapia.
National Catholic Church - +L. White, +T. Villaire, A. Chatham+, J. Scheve+, A. Zaherek+, A. Borka+, F. North+, A. McLaughlin+, J. Gallant+, R. Schiavone+, R. Rivera+, M. Brandt+, J. Spina+, V. Treglio+, J. Winters+, J. Forsythe+, T. Sterner+, P Veliyathil+, Dcn. C. Guzman, Dcn. J. Profirio-Bond, Dcn R. Martin.
National Catholic Church of America - +Richard G. Roy, +Paul Anthony Diederich, N. Szylakowski+, W. Morgenstern+, L. Rolla+, Bro. S. Peterson.
National Catholic Church of North America - +William Wettingfeld, D. St. John+, A. Barrett+, E. D'Ettorre+, Tony Carrillo+, Dcn. D. Thomas.
North American Old Roman Catholic Church – +T.J. Hogan.
The Old Catholic Diocese of Napa - +Robert T. Fuentes, bishop. Francisco Castro, priest. Louis Souza-Fuentes, deacon. Reuben Martinez, deacon. John Rudolph, deacon.
Order of Magdal-Eder - +M. Elaine Bessette
Orthodox-Catholic Church in the Netherlands - +Karel van Osch, +Nikolaos French the Mallinckrodt.
The Old Catholic Church of Antioch – Monsignor Harvey Beagle, Yakima, Washington, under episcopal protection.
The Old Roman Catholic Church +Isaac L Kramer
Oratory of the Common Life +Carl Allen Jimenez, +Jack Holman, +Ken Denski, Catherine Myers+, Geof Acker+, Clyde Kuemmerle+, Steven Baylot
Polish National Catholic Church - +Robert M. Nemkovich.
Primitive Catholic Church - +Rodney P. Rickard.
Reconciliation Old Catholic Church
Reformed Anglican Catholic Church - +Timothy A. Edwards
Reformed Catholic Church - +Wm. Quinlan, +Joseph Corrigan, +M. Heckman, +Niall Sheridan.
Reformed Catholic Church of America Archbishop +Rodney P Rickard
Reformed catholic Church International Inc. +Gerald J. Clements,Presiding Bishop +Andre L. Gregoire, Vicar-General
Reformed Celtic Church+Thomas Faulkenbury,+John Chiaromonte. ect….
Reformed Roman Apostólica Catholic Church - +Dr. Karl Rodig
Regina Caeli Old-Catholic Church - Rt. Rev. Michael K. McKay, RN, M.Div., CATSM, SSCam Oldsmar, FL), +Spencer St. John, SSCam (Tampa, FL), +Laurence Upham (Largo, FL), Fr. Robert Protomster+ SSCam, Deacon Elizabeth Protomaster (Brooksville, FL)
Rumney Marsh Fellowship - Rev. David Dismas, bishop
The Russian Orthodox Church in America[1][2][3][4] - Metropolitan +SYMEON, +IOAN, +FREDERICK
Society of the Cross - +Robert Conley, SC, Presiding Bishop
Spirit of Life Independent Catholic Communities
Servants of the Good Shepherd +J.Thornton
The Old Catholic Church, Province of the United States - +Robert T. Fuentes. +James Judd. +Rosemary Ananis. +Michael Scalzi.
TRINITARIAN CATHOLIC CHURCH (USA) - +Russell Francis Coates, Jr., FDP, M.Div., Metropolitan Bishop, Metropolitan Diocese of Hope (TCC) Send email! Vocations – email!
Transformational Catholic Church - +Bruce D. LeBlanc, Presiding Bishop.
The United Catholic Church - +Rose Tressel, +H. Dodge, +W. Christen, +B. Morales
The United Ecumenical Catholic Church - +R. Langham, +T. Flynn, +Gordon Fraser, +Roger
The United Free Catholic Church - +M. Leavell, +L. Johnson
United Reform Catholic Church International - +K. Keawe,
Unity Catholic Church - Metropolitan Archbishop +Allen Lambert, Vicar General +David Pascua, Chancellor Alex Brow+, +J. Thornton, +F. Cuestas, +S. Smith, +G. Bridgewater, +J. Bebeau, +L. Gregg, +C. Blake
United States Old Catholic Church - +J. Long
Universal Catholic Church - +D. Bekken, +R. Winzens, +A. Miller
JESUS IS LORD